The AR Diamante Beach Hotel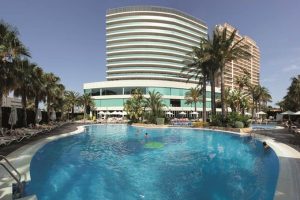 This hotel is located on Calpe's Levante Beach with an unbeatable location on the Costa Blanca.
The AR Diamante Beach has 283 double bedrooms, 29 of which are communicated, as well as two suites.  All rooms offer a modern and sophisticated décor.
All rooms are equipped with a full en suite bathroom with hairdryer, heating and air conditioning, a safety deposit box, mini-bar, telephone, satellite TV, Wi-Fi and large balconies.
Calpe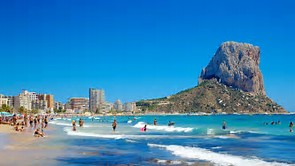 Situated in the heart of the Costa Blanca, lies the ancient fishing village of Calpe, within the region of Valencia.
Boasting of temperatures in excess of 20 degrees, Calpe enjoys a Mediterranean climate of cool sea breezes in summer and is protected by surrounding mountains against the cold North winds in winter.
It is an excellent base to explore traditional Valencian culture and modern tourist facilities. Calpe is the home to three of the most beautiful sandy beaches on the coast.
The town of Calpe was originally home to Iberian tribes. Later, the Romans founded Calpe as a prosperous colony whose activity was drying and salting fish. Both Christians and Moors lived side by side in unity from attacks by pirates during the 14th-17th centuries.